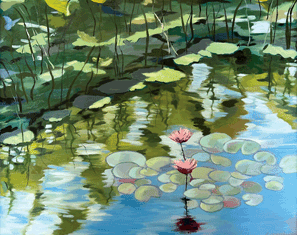 Aug 5 – Oct 15, 2023
Returning for its 77th year in 2023, the Annual Juried Members' Exhibition celebrates our community and region's creative spirit. Featuring more than 100 member artists, this year's exhibition includes 134 works juried by Ramona Bronkar Bannayan, former Senior Deputy Director of Exhibitions and Collections at the Museum of Modern Art (MoMA).
Opening Reception: Celebrate the opening with food trucks, live music, awards, and a cash bar on Saturday, Aug 5 from 6-7:30pm. Members free; non-members $5.
About the Juror
Ramona Bronkar Bannayan was the Senior Deputy Director of Exhibitions and Collections at the Museum of Modern Art retiring in 2021 after 31 years. During her time there, Ms. Bannayan participated in two major museum expansions. As a member of the senior management team, she oversaw the planning of MoMA's exhibition calendar each year which included more than 50 annual on-site exhibitions as well as developing collaborative exhibitions at venues worldwide. In addition, she managed MoMA's collection of over 200,000 works of art. In the past, she has been the subject of a BBC podcast, In the Studio with Paul Kobrak, profiled in Frame magazine, and interviewed on NPR's All of It with Alison Stewart.
Ms. Bannayan is currently an Adjunct Assistant Professor at New York University, Museum Studies, Graduate School of Arts & Sciences. She also serves on the Columbia University School of the Arts (SOA) Dean's Council. An artist herself, she holds a BFA from Wright State University and an MFA in Visual Arts from Columbia University, where she graduated with honors. Since graduation, Ms. Bannayan has maintained her studio practice. Her work has been included in exhibitions with Wolf Kahn, Lois Dodd, Emily Nelligan and Eric Aho among others.