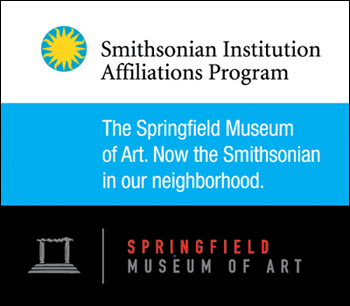 Springfield is home to the only Smithsonian Affiliate art museum in the state of Ohio. The distinction celebrates the Museum's adherence to best practices and its exemplary permanent collection, which features artists such as Berenice Abbott, George Bellows and A.T. Bricher.
This affiliation connects the nationally-recognized Smithsonian name with the collections already featured at the Museum. Additionally, this affiliation allows the Museum to showcase an even broader scope of exhibitions by borrowing art from the Smithsonian's collections.

Springfield Museum of Art holds accreditation by the American Association of Museums, an achievement that helped garner the Smithsonian Affiliation. This distinction recognizes the Museum's adherence to best practices for museums. Springfield Museum of Art exhibits strong, regionally focused collections of American art, which was also a factor in the decision-making process.
Established in 1996, Smithsonian Affiliations is a national outreach program that develops collaborative partnerships with museums and educational and cultural organizations to share Smithsonian Institution resources with Americans in their communities. Smithsonian Affiliates works with affiliates to enrich communities with Smithsonian scholars, public programs and professional development opportunities.