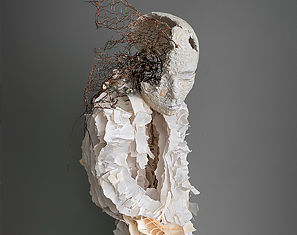 Lisa Merida-Paytes
Apr 16 – Sep 11, 2022
Lisa Merida-Paytes explores the connections and disconnections among the body's systems, the processes of growth and decay, and the animal-like nature of the human form. Through this series of dynamic paper, clay, and wire sculptures, she exposes the skeletal and embryonic core of the human body while also examining what happens when the body's systems breakdown and its interrelated parts no longer communicate. As an artist living with disabilities caused by Ataxia, Merida-Paytes intimately understands the transformative, physical changes that result from progressive, neurological diseases. With her artwork, she seeks to generate an awareness of the ways in which bodies are impacted by disabilities.
Merida-Paytes is a female, Hispanic artist based in Cincinnati, OH. Her sculptural installation work has been exhibited both nationally and internationally, and she has contributed extensively to several ceramic publications including Ceramics Monthly. Most recently, Merida-Paytes served as a Co-Liaison for the National Council on Education for the Ceramic Arts (NCECA) Conference held in Cincinnati in March of 2021.  She received her B.F.A. from the Art Academy of Cincinnati in 1991 and her M.F.A. from the University of Cincinnati in 1997.