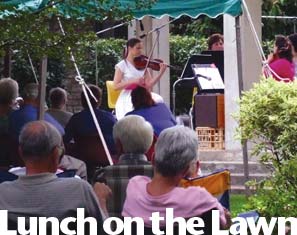 Lunch on the Lawn – Free Concerts!
11:30 –1pm, Friday, July 26, Aug 2, 9 & 16
Lunch on the Lawn includes a mixture of classical and popular music by diverse performing groups. Admission is free. Prepared box lunches will be available for $6 each (drink included). An outdoor tent will be provided for shade. In case of rain, each event will be moved indoors to the Springfield Museum of Art.
July 26 – Dogwood Road
August 2 – Jim McCutcheon
August 9 – The Velveteen Rabbit  and Peter and the Wolf (special family concert)
August 16 – Good Vibes
Bring the whole family, or stop in during your workday – Lunch on the Lawn is a great way to spend your summer lunch hour. Admission to Museum exhibits is free to event patrons after the concert!