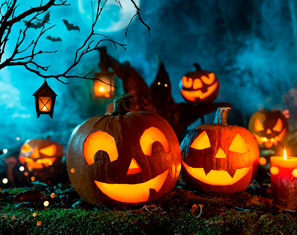 Free Pumpkin Path Walk
Oct 28, 29 and 30, 6-8pm
Celebrate the spooky season at the Springfield Museum of Art with pumpkins, food trucks, and art!
Take a walk along the bike path and sculpture park behind the Museum and see fun, scary, and imaginative pumpkins carved by people across the community. Visit internationally famous artist Yayoi Kusama's Pumpkin sculpture in the Museum, on special loan through Nov 1, 2020. Dress in Halloween costumes and come inside to take your photo in front of Kusama's Pumpkin sculpture! Physical distancing and masks required.
Would you like to have a pumpkin featured on the path? Check back for a registration form here shortly, or email us at smoa@springfieldart.net and let us know how many pumpkins you'll have and how many will be in your group for the walk.
Then drop off your carved pumpkin to the Museum on Tuesday, Oct 27 between 6-8.
In partnership with National Trail Parks & Recreation District (NTPRD).