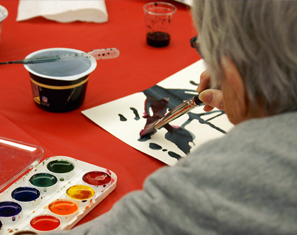 In the Moment: Art Unlocks Creativity – An Evening at the Museum
Tuesday, Nov 19, 5:30-7pm
Join us for a special In the Moment evening at the Springfield Museum of Art on Tuesday, Nov 19, from 5:30-7pm. This is a free
event for individuals with Alzheimer's/dementia and their families.
We'll visit all the art exhibitions, enjoy snacks and make art together.
To register, call the Museum at (937) 325-4673.
For more information, email Annette Eshelman, curator of educationt.
This program is made possible with generous grant support from the Ohio Arts Council and the HealthPath Foundation of Ohio and contributions from Ohio Masonic Home.