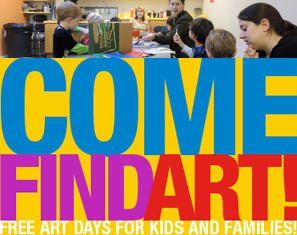 Come Find Art! – Free Art Days for Kids and Families
Sunday, Feb 25, Mar 25, Apr 29 2018, 2-3:30pm
Sunday, Feb 25, free all day, 12:30-4:30pm
Art Activities 2-4:30pm: Dayton, Artist Amy Kollar Anderson, a participant in the Art 360°: Contemporary Art Hatching Across Ohio exhibition, will be discussing her work and demonstrating her painting techniques.
The Chakeres Interactive Art Lab invites you to create your own nest from materials provided. Additionally, 10 members of SMoA were invited to create their own interpretation of the egg and their work is on display in the Members' Egg Invitational through April 6.
Admission to these Come Find Art museum visits is free thanks to our sponsors and our Business Members.
The next Come Find Art Family Free Days are Sunday, Mar 25 and Apr 29.