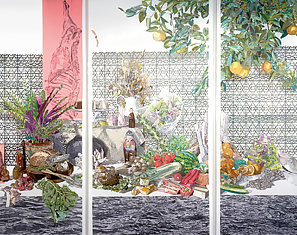 Laura Tanner Graham
Dec 3, 2022–Jun 4 2023
Featuring new work by Laura Tanner Graham, Dish presents a visual archive of the rituals, recipes, and traditions of different communities around the country. By exploring each community's unique foodways, Tanner Graham examines and highlights the ways food can be used to better understand a community's economy, social structure, political leanings, and, ultimately, its people.
Through her captivating drawings and installations, Laura Tanner Graham seeks to uncover the edits and omissions take from dominant historical narratives through the lens of a Southern female perspective.
Since receiving her MFA from the University of Illinois in Urbana-Champaign, Tanner Graham has shown work in several national exhibitions. She serves as the Producer and Co-Host of The Open Call, a podcast featuring conversations with contemporary artists. Originally from Georgia, Tanner Graham now resides in Boca Raton, Florida where she is currently an Assistant Professor in the Department of Visual Arts and Art History at Florida Atlantic University.