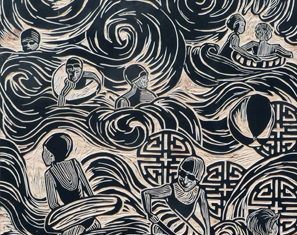 Jan 18-Apr 28, 2019
Ubi Sunt is from the Latin phrase Ubi sunt qui ante nos fuerunt?, meaning "Where are those who were before us?" (Wikipedia). Originating in biblical times, the concept has been used throughout the centuries to represent a meditation on mortality and the temporary nature of life, as well as to convey a sense of nostalgia.
The exhibition features several new works in a variety of media, including prints, paintings, and ceramics. Through prints and paintings, Annie Lee-Zimerle creates narratives that serve as a reflection of her thoughts on cultural identity, domesticity and the role of family. Brian Zimerle's work utilizes the three dimensional to comment upon the subtle play of what knowledge is and how the interactions between art, artist, object, and viewer functions. Through exhibition of their work in tandem, a new conversation about culture, identity, and one's relationships is created.
In Partnership with Cedarville University Art Department.