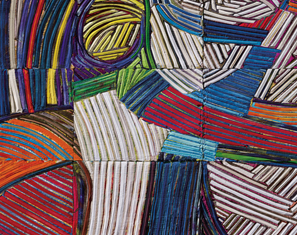 Jan 4 – Apr 5, 2020
Color Improvisations 2 is an international quilt exhibition curated by
Nancy Crow, one of the most celebrated and influential quilt artists
of the past forty years. The show features 50 large, improvisational
quilts by 43 artists from Canada, France, Germany, Switzerland,
Japan, Scotland, and the United States.
All of the quilts, made specifically for this exhibition, highlight the
artists' ability to create abstract compositions on a large scale with
pieces measuring up to 90 x 90." Each work was machine-pieced
and quilted, with many including hand-dyed fabrics that make this
collection of quilts truly unique. The Springfield Museum of Art is the
only U.S. destination to exhibit all 50 quilts in one venue.
Opening Reception: Saturday, Jan 4, 5:30-7pm
Exhibition Sponsor: