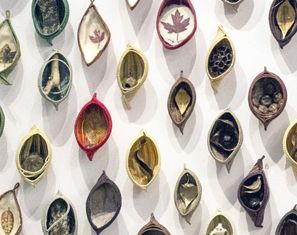 Char Norman
Apr 24 – Oct 31, 2021
Nurturing Reverence features environmental fiber sculptures created by Columbus artist, Char Norman. Combining found objects both man-made and natural, including fiber, paper, seed pods, and twigs, each sculpture serves as a relic and a tool to explore the symbiotic relationship between nature and humans.
Char Norman is an accomplished fiber artist specializing in papermaking and fiber sculpture. She received a Master of Fine Art from Claremont Graduate University and a Bachelor of Art from Scripps College. Throughout her career, Norman has lectured and exhibited extensively both nationally and internationally. In addition to creating, she has developed workshops for all ages, serves as a consultant to area schools and community art organizations, and has held the positions of Associate Provost and Dean of Faculty at the Columbus College of Art & Design. Currently, Norman works as a full-time studio artist located in Columbus, Ohio.