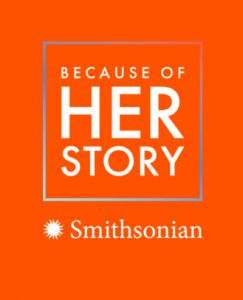 The Smithsonian launched the American Women's History Initiative – Because Of Her Story – in 2018. The initiative is one of the country's most ambitious undertakings to research, collect, document, display, and share the compelling story of women. It is inclusive, highlighting the stories of those who identify as women and those who were designated female but self-identify differently.
As the only Smithsonian affiliate art museum in Ohio, we are proud to provide access to these renowned Smithsonian resources and experts. The talks will be aired via Zoom, and you will need to register to attend. If you don't already have Zoom, go to zoom.com and download the app for your phone or your computer.
Mar 3 at 7pm – African American Women's Activism in Historical Perspective
Highlighting objects related to African American women's history in the Smithsonian collections, this event focuses on African American women's activism and contributions in historical perspective.
Each speaker will explore an interesting aspect of African American women's activism through an extended discussion of one or two objects.
Featuring:
Crystal Moten, Curator, National Museum of American History
Nancy Bercaw, Chair, Division of Political and Military History, National Museum of American History
Modupe Labode, Curator, National Museum of American History
Aleia Brown, Assistant Director, Maryland Institute for Technology in the Humanities
Mar 31 at 5pm – Women Artists Respond to Place
The significance of landscapes, places, and narratives of all kinds will be examined through the works of contemporary women artists in Smithsonian collections.
Featuring:
Rebecca Trautmann, Assistant Curator of Contemporary Art, National Museum of the American Indian
Tuliza Fleming, Curator of American Art, National Museum of African American History and Culture
Moderated by:
Tricia Edwards, Deputy Director, Smithsonian Affiliations